Game Shows
Win over the crowd at your next event
LET'S PLAY
Game Shows
Whether it's The Feud, Trivia, or Minute-2-Win-It Tournament, KMH Entertainment offers over 150 hours of Hilarious Game Show possibilities to entertain and engage crowds of all-ages.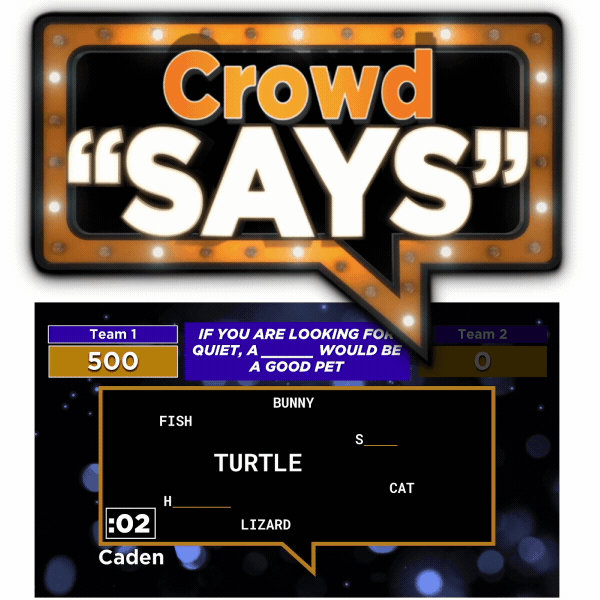 CROWD SAYS – (30 Minutes)
Similar to the hit game show "America Says," it's a fast-paced mix of "Family Feud" and "Wheel of Fortune" where the whole audience plays along by yelling out answers to silly questions in under 30-seconds.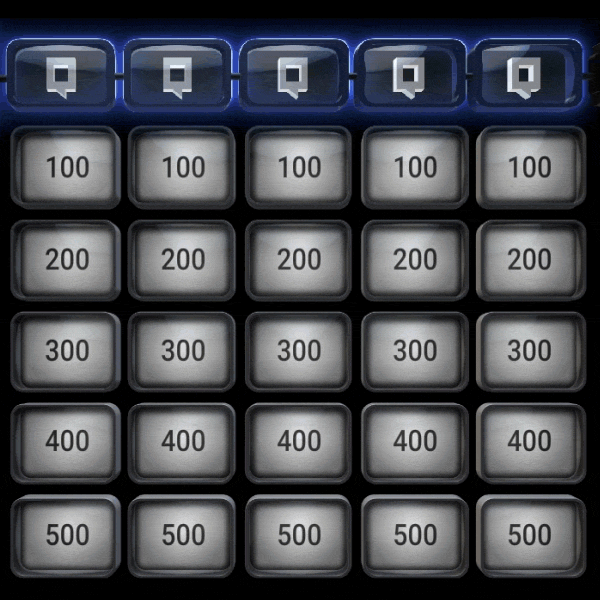 QUIZ SHOW – (30 – 60 Minutes)
Similar to "Jeopardy," we've got hilarious questions about popular topics developed by one of the writers of "Disney Quizney" on The Disney Channel. Audiences can even play along using their cell phone as a buzzer!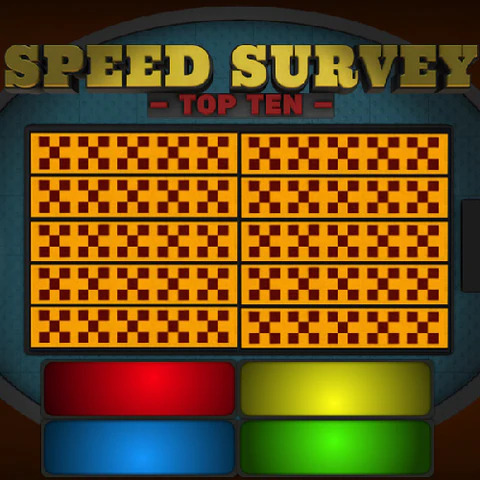 SPEED BUZZER GAMES – (30 Minutes)
SPEED TRIVIA
A combination of Trivia and running; contestants are given an easy question and tasked with slamming a colored buzzer that corresponds with the correct answer. The twist is, those buzzers are spread out to the 4-corners of the room. Points for how fast you answer, with a Top 10 displayed on-screen.
SPEED SURVEYS
This game is like playing an entire episode of "Family Feud" in under 60-seconds. Guess which answer is in the top 3 of each survey, but don't slam the least-popular one, or you'll "Strike Out." Top 10 leader-board displayed on-screen.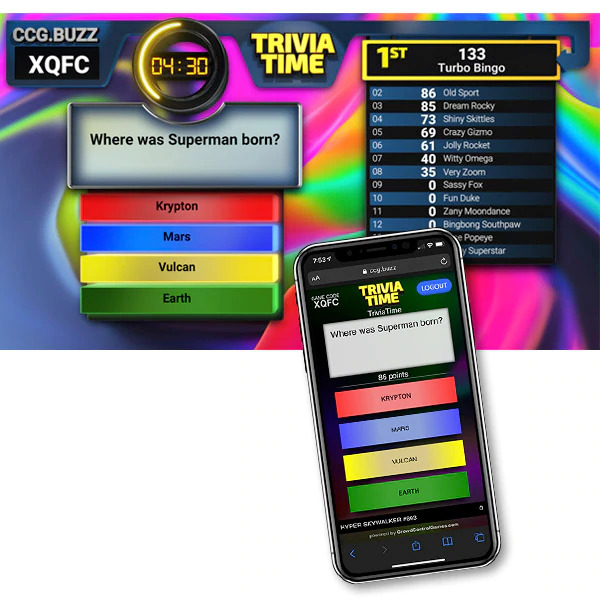 TRIVIA TIME – (15 – 30 Minutes)
Everyone gets to play along using their Cell Phone, Tablet, or Laptops. Questions appear on devices and on-screen. We'll reveal the most popular answer, and then the correct one, with a Leaderboard tracking everyone's progress.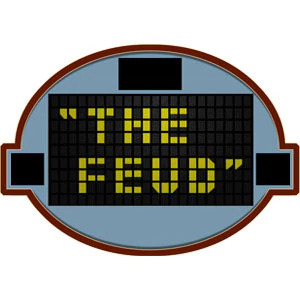 THE FEUD – (45 – 60 Minutes)
Just like America's favorite game show, minus Steve Harvey's expensive suit. We've got hilarious questions to keep contestants AND the audience rolling in laughter as they spout out their best guesses for a prize. And with a professional comedian on the mic, everyone's guaranteed to have a great time.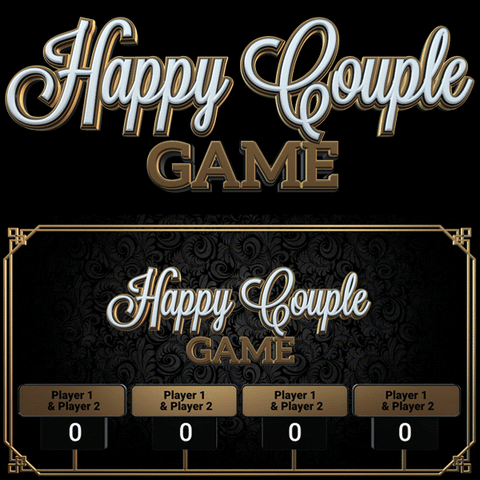 HAPPY COUPLE / OFFICE MATES / BESTIE CHALLENGE – (45 – 60 Minutes)
Our version of a newlywed game; contestants are paired up and have to guess their partner's answers to simple yet silly questions. Teams play along using a cell phone and answers are displayed on our interactive game board.
TAKE A CHANCE – (30 Minutes)
Similar to Game Show Network's "Press Your Luck" with a Pirate Theme; contestants use Buzzers to collect "Booty" by testing their reaction-times and strategy using our interactive "Take A Chance" Game Board. Players earn "turns" during rounds of "Captain Obvious," but risk landing on "Captain Jack" who'll jack all their loot. Since all you have to do is hit a buzzer, this game is great for adults AND kids! Works for large groups or smaller parties.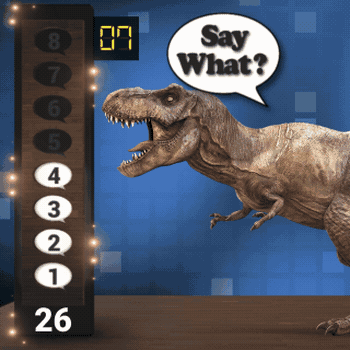 SAY WHAT?! – (15 – 30 Minutes)
Great for younger audiences and groups that are awesome at impressions. One contestant from each team is selected to sit up-front and get blindfolded. The rest of their team is shown either a character, animal, celebrity, or sound-effect they must MIMIC OUT LOUD to be guessed by their on-stage representative. Points are awarded for every correct answer with bonus points for how fast you answer. Laughter ensues as the room is filled with mooing, clucking, and Christopher Walken impersonations.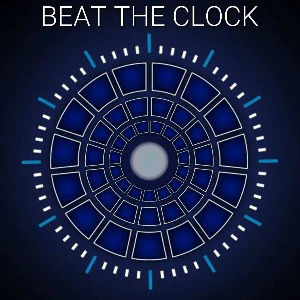 BEAT THE CLOCK – (15 – 30 Minutes)
With an interactive Game Board and Timer on screen, up-to 8 contestants must provide answers to random categories before the clock runs out. If the Spotlight's on you when the buzzer sounds, you're eliminated. Last person standing wins a prize. This can be played in teams or an 'every-person-for-themselves' battle for survival.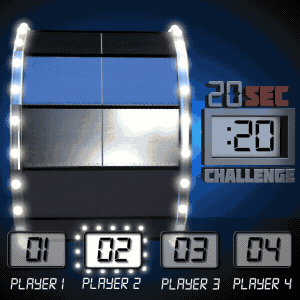 20-SECOND CHALLENGE – (15 – 30 Minutes)
Up to four contestants at a time will spin the Virtual Wheel of Challenges. Whatever challenge it lands on, the player must complete in 20-seconds less. Whether it's doing "The Macarena 3x Fast" or reciting a child's nursery rhyme at a frantic pace, each tricky trial gets funnier as they go. We offer both a "Regular" version of this game along with "Dance Challenge" version that's played using two teams.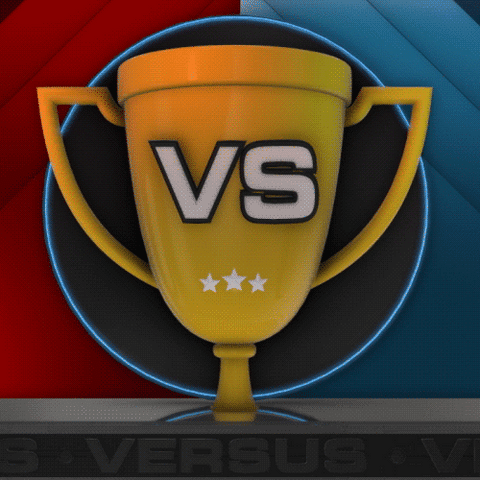 VERSUS – (30 Minutes)
Two teams of 5 face-off in 5 rounds of goofy games under time constraints. Whether it's having your team line up in a certain order, describing a movie in under 5-seconds, or answering a series of questions without saying 'yes,' 'no,' or 'Um'… contestants and audiences will howl as they watch players struggle to keep up in this fast-paced battle of brain-teasers.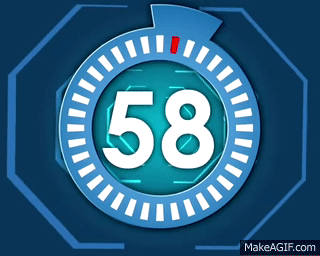 MINUTE-TO-WIN-IT TOURNAMENT – (30 – 60 Minutes)
Each tournament is a mix-and-match combination of ridiculously simple-yet-silly challenges that must be completed in under 60 seconds. The crowd is split into two teams and various team members will face off in each challenge.
Your Turn
Contact Us
Let's talk about your event and how we can help make it even more amazing. Give us a call at (747) 333-6147.